「国際ふぐ協会」会報 vol.84
International Fugu Association Newsletter Vol. 84
会員の皆さん こんにちは、代表の古川です。 朝晩は少しずつ秋の気配となりました。 下関ではフグの初競り式がありましたので、フグ本格シーズン開始です。 今年は良いシーズンとなるように期待したいです。 そんな中、中国の日本産フグの輸入禁止措置でホタテやナマコなど大ダメージです。 早く改善してもらいたいです。
Dear Members, Hello, this is Furukawa, the IFA representative. In the mornings and evenings, signs of autumn gradually began to emerge. The first Fugu auction ceremony was held in Shimonoseki, marking the start of the real Fugu season. I hope this year will be a good season. Meanwhile, China's ban on importing Japanese marine products has caused significant damage to scallops and sea cucumber exports. I hope it will be improved soon.
<活動>
1.前回シーフードショー会期中に韓国代表の李さんに認定証をお渡ししました。
現在は日本に大勢の韓国人観光客がきておりますが、1年前には考えられないことでした。日本式のフグ食が韓国でも広がっていくことを願っています。
1. During the last Seafood Show, we gave the IFA Representative Certification to Mr. Lee from Korea.
Many Korean tourists now visit Japan, which was unthinkable a year ago. I hope that Japanese-style pufferfish eating will spread in Korea as well.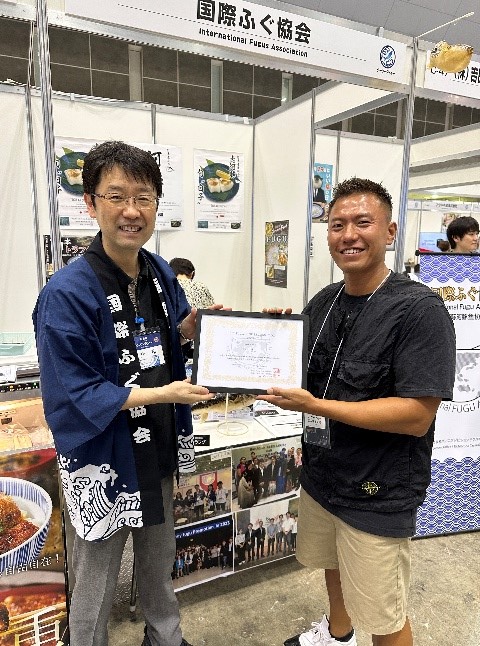 2.台湾訪問
台湾にいきました。 まずは台北で開催されている台湾国際海洋水産業展示会にて出展しました。 台湾国際海洋水産業展示会 中華民国台北市南港展覽1館
2. Visit to Taiwan
I went to Taiwan. First, we exhibited at the Taiwan International Marine Fisheries Exhibition in Taipei. Taiwan International Marine Fisheries Exhibition Nangang Exhibition Hall 1, Taipei, Republic of China
水産だけでなくアグリ関連もありました。 どこからかフグのことを聞かれてバイヤーが訪問されました。 中華人は商売に積極的です。
日本台湾交流協会にも行きました。日本大使館兼JETROのようなところです。 In addition to fisheries, there was also an agriculture-related exhibit. A buyer came to visit after hearing about Fugu from somewhere. Taiwanese people are active in business.
I also went to the Japan-Taiwan Exchange Association. It's like a combination of the Japanese Embassy and JETRO. 中国に気を使っているので、大使館はなく、日本の役人さんも台湾にはいけないそうです。現地の情報を共有しました。今回日本人がめったに逢うことのできないTFDAの署長と会談できるのは絶好のチャンスだと言われました。 Because they are concerned about China, they do not have an embassy, and Japanese officials are not allowed to visit Taiwan. We shared local information. I was told this was an excellent opportunity to meet with the TFDA chief, whom Japanese people rarely meet.
今回、その会談を準備いただいた国際ふぐ協会の台湾代表のインペリアルホテル廖オーナーにご挨拶と御礼にいきました。 振興住宅地が立ち並ぶMRT駅近くに大きな中華レストランを開かれていました。 来年には新しいホテルが開業されるとのことで活発に活動されておられます。
This time, I paid a visit to thank Mr. Liao, the owner of the Imperial Hotel. He is the Taiwan representative of the International Fugu Association, who had arranged the meeting.A sizeable Chinese restaurant had opened near an MRT station where a residential development area was lined up. Mr. Liao is very active as a new hotel will open next year.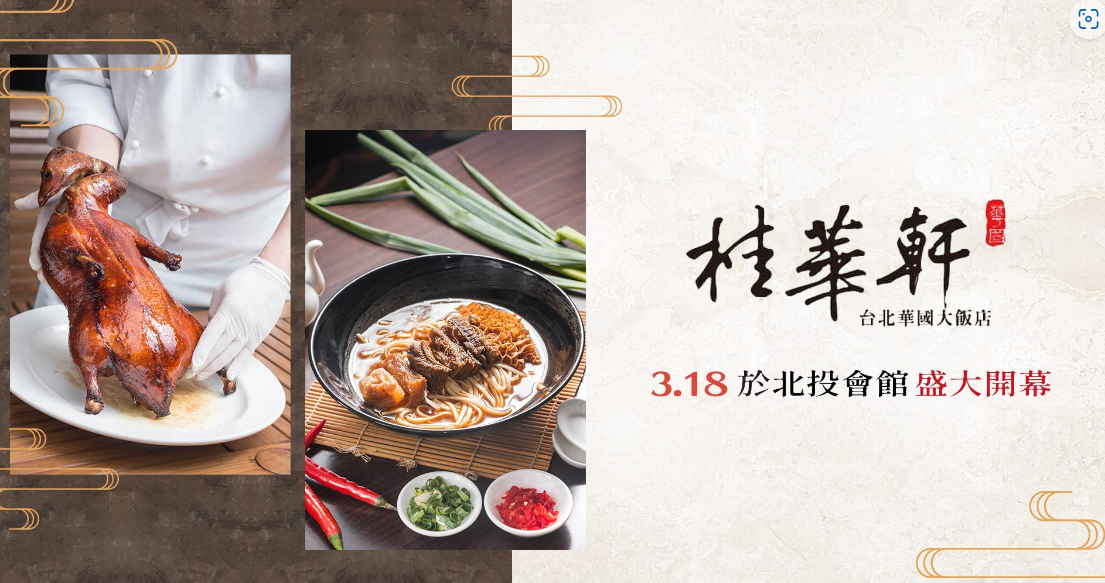 翌日にTFDA 台湾衛生福利部食品薬物管理署に井手事務局長と一緒に行きました。 The next day, I went to TFDA, Food and Drug Administration Office, Ministry of Health and Welfare, Taiwan, with IFA Director-General Ide.
交渉ことはまだ詳しくは言えませんが、実に誠実にフグの輸入解禁を検討してくださっています。まだ解禁までいくつかステップが残っていますが、ゴールは近いと感じています。 I cannot go into details about the negotiations, but they are sincerely considering lifting the ban on importing Japanese Fugu. A few steps remain until the ban is lifted, but the goal is close.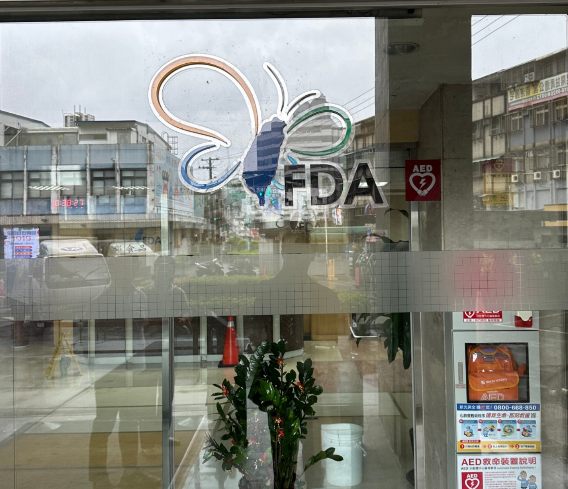 (TFDAのロゴ)台湾本土に有名なチョウチョのデザイン (TFDA logo) Famous butterfly design in Taiwan
3.2023年度シンガポール日本産フグプロモーション
今年度の農水省、JETROからの採択事業、海外プロモーション活動を行います。 10/15,16の2日間、シンガポールのキッチンスタジオを借りて、地元シェフを集めたフグ調理実習プログラムを行います。
3. 2023 Singapore Japanese Fugu Promotion
We will carry out overseas promotion activities and projects selected by the Ministry of Agriculture, Forestry and Fisheries, and JETRO this year. We will rent a kitchen studio in Singapore on October 15th and 16th and conduct a Fugu cooking training program with local chefs.
招待状 Invitation
Pufferfish(fugu) cooking training for professionals
A Japanese pufferfish craftsman will teach you cooking techniques such as pufferfish sashimi, parboiled pufferfish, fried chicken fillet, grilled milt, and puffer fin wine from the cultivation of farmed tiger pufferfish.
Participation fee is free. Up to 2 people per company. Please apply for each person individually.
-information-
Date and time: ① October 16, 2023 (Monday) or ② October 17th (Tuesday) Both times are from 14:00 to 17:00. Maximum of 24 people per day.
Venue: Let's Yori - Korean Cooking Studio 03-02 Downtown Gallery, 6a Shenton Way, Singapore What you need: A sashimi knife, a knife that can cut into chunks, an apron, and gloves. Cool bags and ice packs for storing finished sashimi, etc.
-Application matters-
・Preferred date ・Participant name ・age ・gender ・Company Name ・telephone number ・E-mail ・Supplier company name *You will receive a certificate of completion after the course, so please enter your name correctly. *Please enter the suppliers you will be using for future commercial distribution.
Exhibition Technologies Co., Ltd. 8th floor, Shin-Aoyama Building West Building, 1-1-1 Minami-Aoyama, Minato-ku, Tokyo 107-0062

また10/18は玄品シンガポール店において日本産フグのプロモーションを行います。 あまり時間がありませんが、シンガポールへの施設登録済みの加工所であれば無料で商品の参加ができますので、お問い合わせください。
Additionally, on October 18th, we will promote Japanese Fugu at the Guenpin Singapore store. We don't have much time, but if you are a processing plant that has registered your facility in Singapore, you can participate in our product showcase free of charge, so please get in touch with us. That's all for today.
以上です。